Group Art Therapy (2 Days)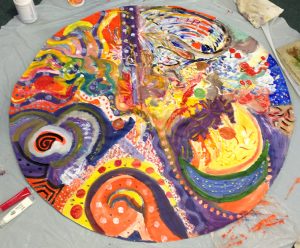 Course Description
Therapeutic groups are effectively facilitated through inclusion of art tasks. This workshop demonstrates the therapeutic use of art in group work. Through case examples, experiential workshop demonstration and video presentations, various group art experiences are shared. Designing art tasks to enhance group themes provides new group facilitation skills. Case examples demonstrate how group themes develop and there is opportunity to consider art tasks relevant to different client groups.
This workshop promotes art-making as an alternate way to express thoughts and feelings. Verbal communication in groups can be unclear and confusing. Group art activities help clarify themes, stimulate creative thinking, provide group process insight, allow opportunity for metaphoric communication, visually promote a group identity and because of the art work is tangible, allow themes to be reviewed, as part of the group history.
It is preferable that participants have some group work experience or are currently facilitating groups. Family workers can also gain from this workshop if they work with the family as a group. Artistic skills are not required to benefit from this workshop.
Target
Therapists, counsellors, artists, educators, and/or anyone interested in group work, particularly people working in multi-cultural or disability settings where English language or verbal communication is challenging. People considering a career in art therapy. Artistic skills are not necessary.